About 15 minutes by car from Atsumi Onsen, there is a place where you can fully enjoy the Sea of Japan. Nezugaseki, located at the southernmost tip of Tsuruoka City, is right next to the Sea of Japan. It is one of the leading port towns in Yamagata prefecture, and is a place where fishing and sea activities are active. Here, we will introduce a course where you can fully enjoy the Nezugaseki area and all the unique places and gourmet food.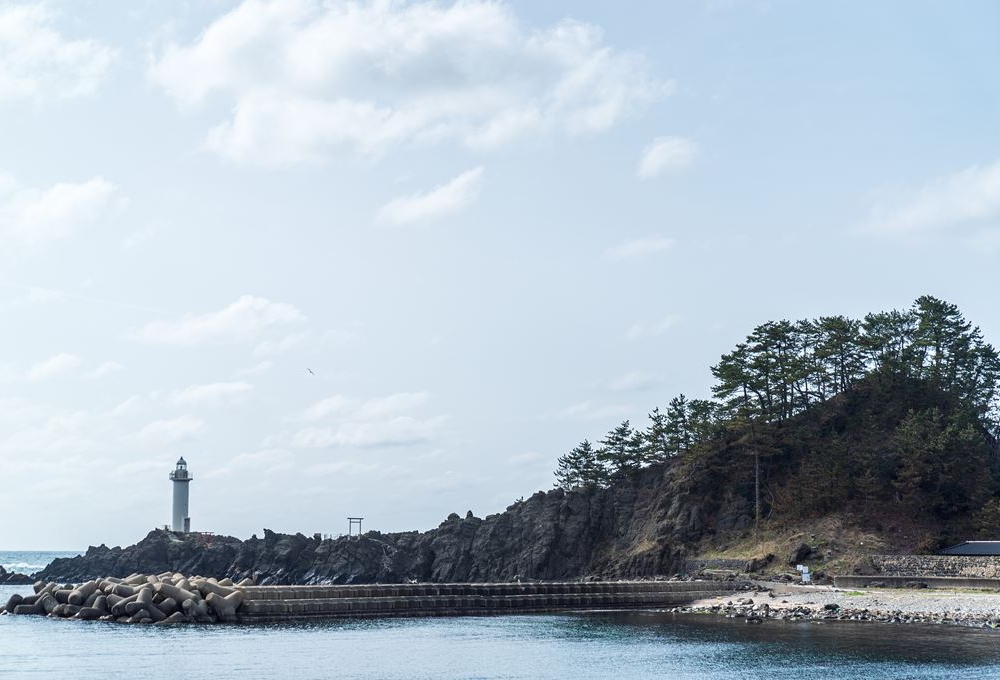 The symbol of Nezugaseki, "Bentenjima," was an island before the port was constructed. A path to the island apprears when tide draws back and only then you are able to cross over to it. People worshiped Benzaiten and prayed for the safety of the sea and big catches. In the Meiji era, the scenery overlapped with Itsukushima Shrine in Hiroshima, and since then it has been named Itsukushima Shrine.​
After visiting the shrine, let's take a walk around the island. We recommend going around counterclockwise. Go along the side of the very transparent sea and aim for the Nezugaseki Lighthouse. It is very thrilling to be on the path of where all the waves hit. *Please be careful during rough weather.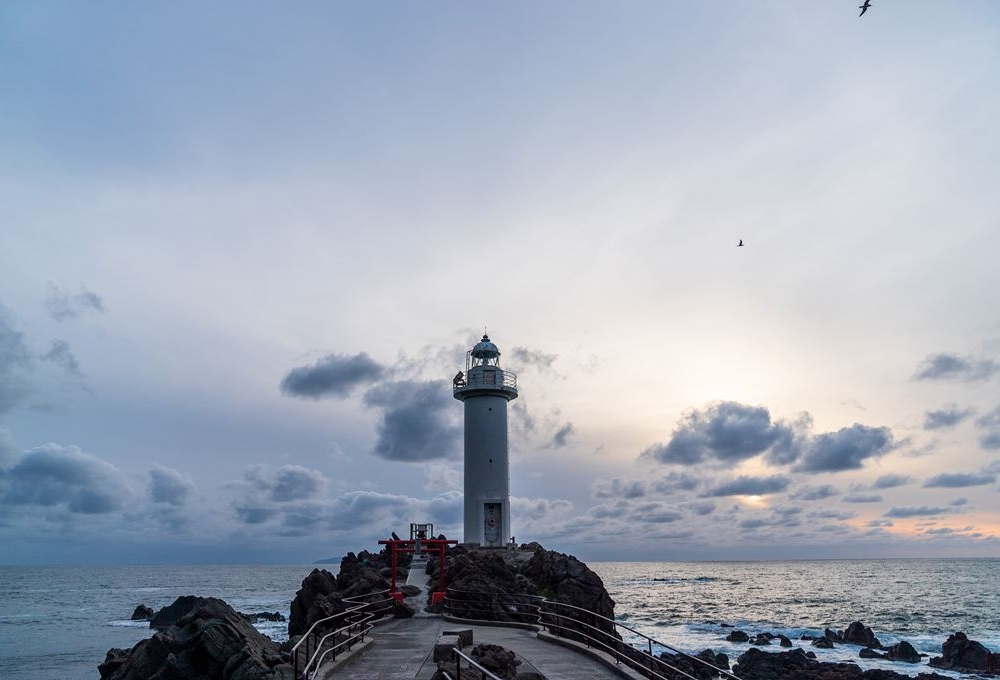 After crossing the difficult part of the trail, you will see a magnificent view. You'll have the feeling of relief once you see the vermilion colored shrine gate on the Western lighthouse and the infinite blue sea in the background. It is said that Nezugaseki lighthouse is granted as a spot of romance, "lighthouse in love". A place that couples would want to visit.
In the distance you will see an island, this island is actually an island in Niigata prefecture called Awashima. It is a unqiue scenery that you can only observe from the prefectural boarder. If the weather conditions are in your favor, you can also see Sado Island, which can a test your luck!
Click here for the lighthouse in love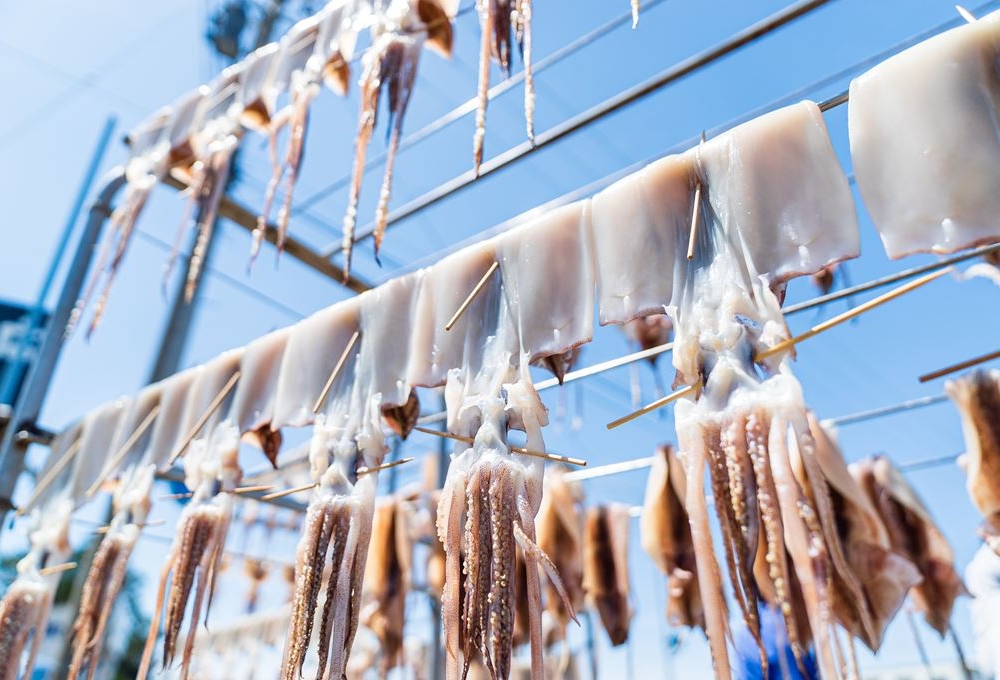 Shonai beach's tradition is to dry squid overnight. You will be able to see all the dried up squid by walking along the side of the street heading to Bentenjima. We highly recommend experiencing the making of dry squid overnight. The instructor will take you step by step to carefully teach you how to make dry squid. Another interesting experience that you can do is, "squid ink calligraphy". If you ever wondered if you can do calligraphy with squid ink, well here is the answer, you can! Please take some time to experience this when you can! Express what you felt in Nezugaseki with a brush. And of course, the overnight dried squid you made is a souvenir.。
Click here for the experience of making dry squid overnight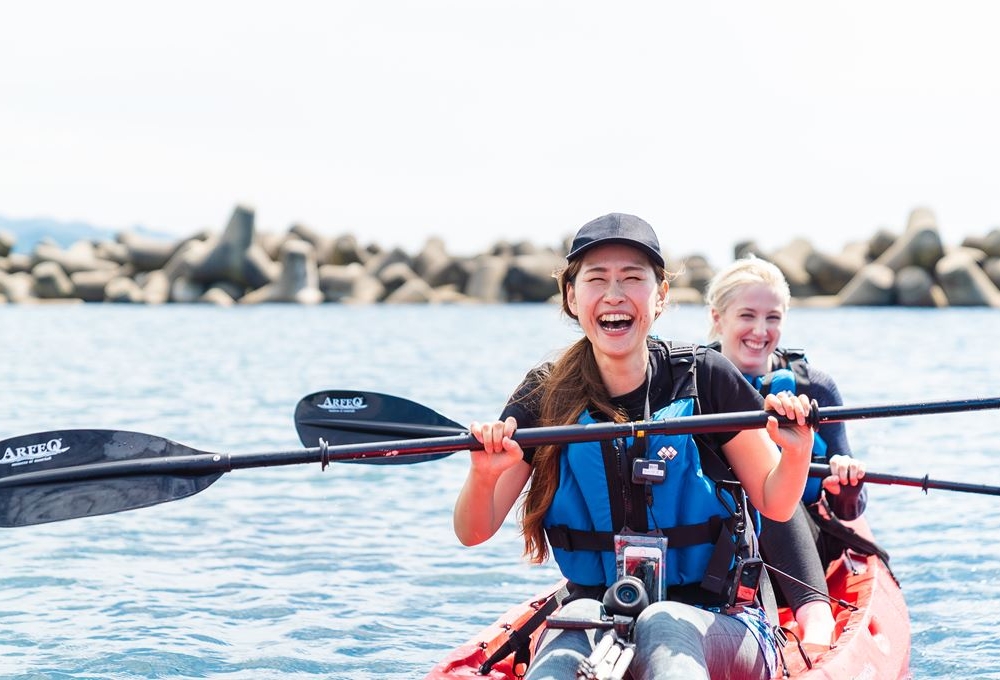 You can enjoy a popular activity which is, sea kayaking in Nezugaseki. If you're worried if you can do it, don't worry. Sea kayaking is an activity that even beginners can easily enjoy.
After listening to a lecture by the instructor, we row out to sea with a two-seater kayak. The sense of being so calm and steady, before you know it your anxiety will be all gone. The calm sea that surrounds you, the scenery from the sea surface that you rarely get to enjoy, makes you feel like you are part of the sea yourself.
If you stop your kayak and take a look underwater, you'll be amazed at how transparent it is. Any image that you had of the Sea of ​​Japan may change completely. Sea kayaking at ease in the Sea of ​​Japan, is a recommended experience. They also have an experience where you can go sea kayaking during sunset for a limited period, so make sure to check this out.
Click here for details of the experience
Click here for sunset sea kayaking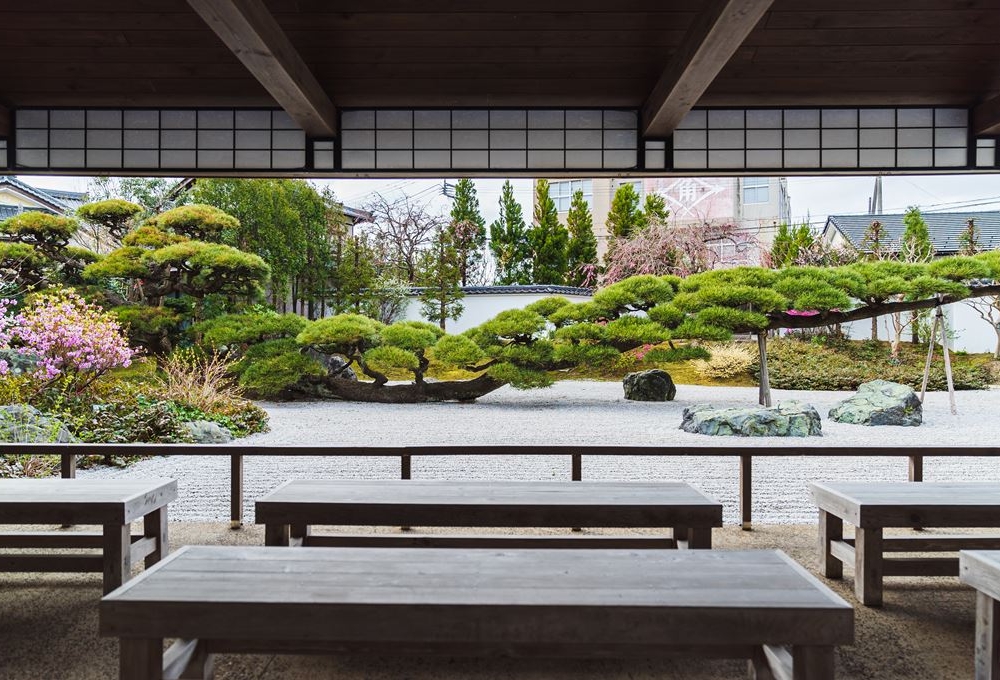 "Nenju no Matsu" is about 400 years old pine tree and has a total length of about 20 meters. It is called "Garyu Matsu" because it looks like a dragon lying down. The figure floating in a beautiful cloud-like Japanese garden is just a dragon. What is crazy about this is that the owner of the Murakamiya Ryokan at that time replanted the bonsai and it just grew up to this point. It also seems that it is still growing.
Enjoy the view by relaxing on the benches that are in the garden. It's a perfect spot to take a break from your travels.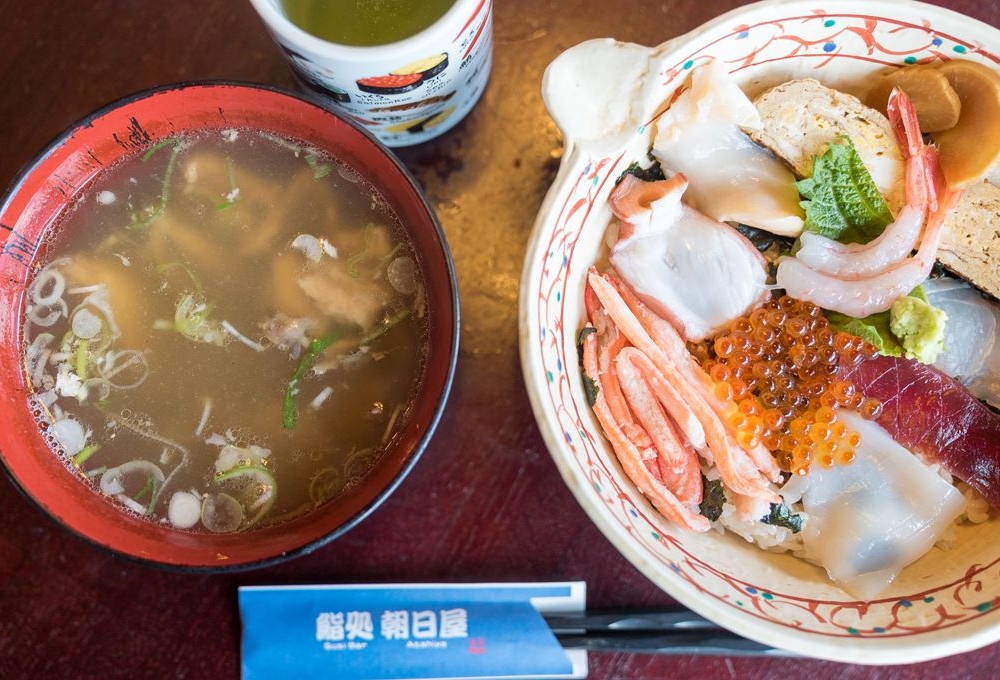 It's a must to eat the local fish if you visit the local port town. At Sushidokoro (Sushi restaurant) Asahiya, you can eat authentic sushi at a reasonable price. The first thing that surprises you when you enter the entrance is the voice of the sushi chef. You can clearly hear him even if you are 200 meters away. His calling out, "Welcome!" is more like a specialty when visiting.
Asahiya's #1 recommended menu is "a handful of local fish." In fact, Shonai beach is one of the shortest coastlines in Japan and the fishing grounds are very small. Still, due to the complex seafloor topography, there are more than 135 species of fish on the market. Therefore, it is a luxurious place where you can enjoy seasonal seafood during each season. Perhaps you may come across an exquisite seafood that you have never seen or heard. 。